This Thursday is America's birthday, and that means it's time to party. Whether you're hosting your first 4th of July party or trying to up your game this year, we've got the hacks you need to know to take your red, white and blue bash to the next level. Planning on ending your party with a boom? Be sure to also read our last-minute firework safety tips so everyone stays safe this holiday.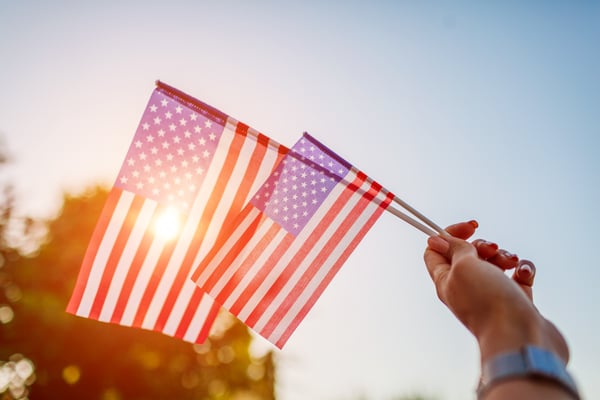 DIY Party Hacks
Light it up with starred-and-striped candle holders
There's a ridiculously easy way to create some last-minute holiday decor for your July Fourth bash, using items you likely already have around the house or can easily acquire.

What you need:

Mason jars, red, white and blue spray paint, 1/4-inch masking tape and star-shaped stickers.





The end results look like something straight out of Pinterest.
Create last-minute patriotic attire from head to toe
Can't find anything red, white and blue in your closet today? Don't worry; there's plenty of ways to create patriotic garb with a t-shirt, jean shorts and white sneakers that you probably already have!



First off, transform a simple white T-shirt into a stars-and-stripes tee in less than 10 minutes with this DIY guide.



What you need: A white tee, a patriotic iron-on template, iron-on transfer paper, an iron, scissors and a piece of cotton fabric. Follow Brit + Co's ten minute, step-by-step guide on how to make the festive T-shirt here

.





Next, a super simple way to upgrade your plain denim shorts or plain white sneakers into festive Fourth of July party wear is to use some fabric paint.



What you need:

Plain denim shorts, plain white sneakers, fabric paint in assorted colors, a large paintbrush, and a small detail paintbrush. Get the patterns

here

.
Make a rocket pop pinata
Nothing says summer like the classic red, white and blue rocket popsicles that have become a Fourth of July party staple over the years. Use the iconic design as an inspiration for a fun pinata to take your party to the next level.



Making a pinata from scratch is actually way easier than it sounds and is sure to be a crowd-pleaser.



What you need:

Red, white and blue crepe paper streamers, two 3-foot tall pieces of cardboard (can easily use a couple of old boxes), scissors, liquid glue, marker, a box cutter, and masking tape.



To learn how to put it all together, click here.


Make your party pop with homemade confetti poppers
The Fourth of July is all about fireworks. While handheld fireworks or sparklers are fun, if you are hosting a party with children, or live in an area with strict firework restrictions, then these confetti poppers are the perfect fun alternative to make your party pop.

What you need:

Origami paper, glitter, cake push pops, scissors, spray paint, and permanent markers.
Create a balloon flag
If you don't have a flag you can easily create one that is pic-worthy! Blow up some balloons, then use tape to stick them in place against a wall.

What you need:

red, white and blue balloons and tape!
Grilling Tips
Make sure your grill is super clean
If this is your first time grilling, make sure to avoid a common rookie mistake. Take the time to scrape off the grill grate or clean it. If you fail to do so, it could have a significant effect on taste. If you don't have a grill brush, you can crumble some foil into a ball and use it to get in between the grates, and it's sturdy enough to hold up to the toughest messes. I personally like to finish cleaning the grill with half an onion to remove any final leftover residue.


Use fresh, not frozen, meat and season heavily
Make sure everything you put on the grill is fresh and never frozen. Don't be afraid to use too much seasoning either. A fair amount of seasoning will fall off through or on the grates so be bold when seasoning your meats, and veggies also!


Try "greening" up your Fourth of July cookout
The United States Department of Energy estimates that Fourth of July barbecues alone pump about 225,000 metric tons of carbon dioxide into the atmosphere. However, you don't need to give up the grilling to save the planet. Check out our green grilling tips

to ensure your BBQ is as eco-friendly as possible!
Firework Safety Tips
Make sure fireworks are legal in your area
Some counties will have restrictions or fire bans depending on recent weather conditions. Check with local officials to make sure your party isn't a bust.


Be extra careful with sparklers
Little arms are too short to hold sparklers, which can heat up to 1,200 degrees. How about this? Let your young children use glow sticks instead. They can be just as fun, but they don't burn at a temperature hot enough to melt glass.

Always be sure to closely supervise children at all times around fireworks.


Take necessary precautions


Do not wear loose clothing while using fireworks. Light only one firework at a time and never light fireworks indoors or near dry grass. Point fireworks away from homes, and keep away from brush, leaves and flammable substances and never hold a firework that isn't meant to be held
Be prepared for an accident or injury
Stand several feet away from lit fireworks. If a device does not go off, do not stand over it to investigate it or try to relight it. Wait at least 20 minutes and then place the firework in a bucket of water then dispose of it.



Always have a bucket of water and/or a fire extinguisher nearby. Know how to operate the fire extinguisher properly.





If a child is injured by fireworks, immediately go to a doctor or hospital. If an eye injury occurs, don't allow your child to touch or rub their eye, as this may cause even more damage.
Flags, fireworks, friends & family are all things that make the Fourth of July special! So, go all out with the decorations and food but remember to celebrate responsibly. We hope you have a wonderful Independence Day!