Summer is here and it's time to start taking advantage of that beautiful sunny weather. Inviting friends and family over for a day of grilling and outdoor fun is just the ticket. Unfortunately, sometimes all of that summer fun comes with a hefty price tag for the environment.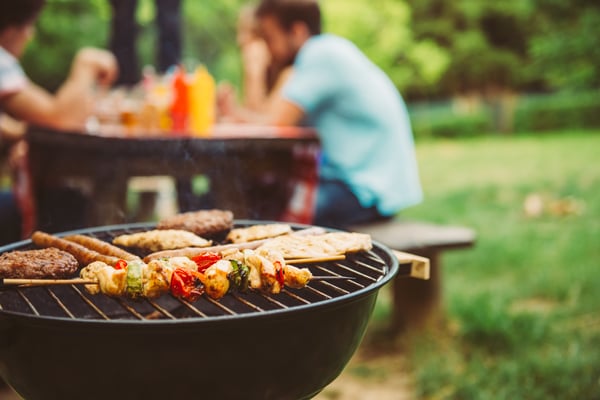 The United States Department of Energy estimates that Fourth of July barbecues alone pump about 225,000 metric tons of carbon dioxide into the atmosphere. And that's not even counting all of the cookouts from the rest of the summer. Plus, there is all the physical waste produced at summer get-togethers—the Styrofoam plates, plastic forks, party decorations, and latex water balloons.
No one's saying you should give up grilling, but how can you ensure that your summer cookout doesn't destroy your carbon footprint for the whole year? We found a few tips to help keep this year's cookout or BBQ as eco-friendly as possible.
Mind your carbon emissions. Charcoal grills are the worst offenders when it comes to carbon emissions, so you might want to consider a more energy-efficient and cleaner burning gas grill instead. Hank Hill would be so proud! But if you can't bear to give up the smoky flavor imparted by charcoal, there is an alternative. Instead of charcoal briquettes, look for lump charcoal. Made from tree limbs and blackened in a kiln, this type of charcoal not only burns cleaner but also is responsible for less deforestation than briquettes. And it still gives your food a delicious, smoky taste. Lump charcoal is available online and at many home improvement stores.



Choose reusable plates, napkins, and cutlery. Do your part to keep paper and plastic waste to a minimum this summer by using your regular tableware for parties. If you're afraid of glass and ceramic plates getting chipped or broken, opt for a set of sturdy, reusable plastic or sustainably sourced dishes that you can use at your barbecues for years to come. The extra clean-up won't take too long if you enlist the help of your guests. You can even set up a backyard dishwashing station, utilizing the bucket system like when you go camping. If you do opt for disposable tableware due to the size of your party, look for eco-friendly options and set up a recycling station.





Handheld foods reduce the need for plates and utensils. Many summer foods don't even require plates. Set out platters of kebabs, watermelon slices, and hot dog fixings to cut down on the number of plates and forks needed.





Be conscious of energy consumption. You'll be spending the day outside, so the air conditioning probably doesn't need to be running indoors. If you're using a gas or electric grill, turn it off when not in use.





Compost your vegetable and fruit waste. Why send all that valuable, enriching plant matter to the landfill when you can add it to your flower beds or vegetable garden next year? If you're using unbleached disposable paper plates and napkins, you can add them to the compost pile, as well.





Opt for local and organic ingredients. The more locally your food is produced, the less carbon pollution it takes to get it to your cookout. Take a trip to the farmers market before your cookout and try to source as many of your ingredients from the seasonal bounty available close to home.





Set up eco-friendly activities for the kids. Lots of summer barbecues include organized games and activities for children—many of them involving water! If you're planning to let the kids get in some water fun, go for well-made water guns rather than sprinklers or water balloons. A continuously running sprinkler can use up a LOT of water over the course of an afternoon, and latex balloons create toxic pollution both in manufacture and disposal. A water gun, on the other hand, can be used for years and years and will provide plenty of squirts, splashes, and fun in the sun. You can find more

activities to do with the kids this summer

here as well.
These simple tips will help keep our environment thriving and allow for many more BBQ's to come. Do you have some eco-friendly grilling tips of your own? Share them with us on Facebook!