Flowers are in full bloom, birds are chirping, and Mother Nature is calling your name. It's time to get outdoors and finally enjoy the beautiful season. This great weather prompts outdoor adventures and inspires exploration of nature. However, now more than ever, it's crucial to make sure we are responsibly enjoying our environment.
The Ultimate Guide to an Eco-Friendly Camping Trip
If you're planning on packing up and hitting the road for a camping trip use these green tips to make the most of your outdoor experience while taking care to leave a healthy environment once you've packed up your adventure. Here are some tips to help you embrace the beauty of nature responsibly.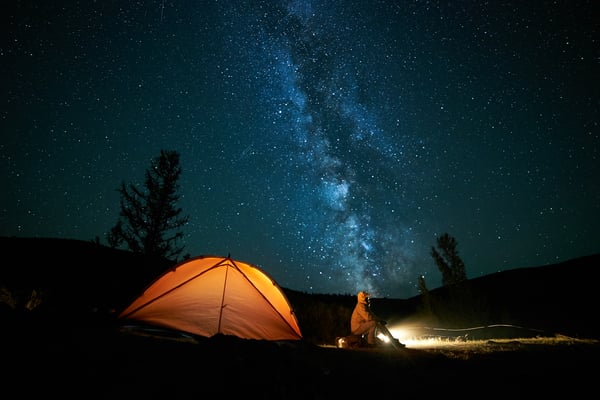 1. Pick a local park or campground.
The less distance you travel, the more fuel you'll save – and, of course, a shorter trip in the car means more time to kick back and enjoy the main event. Search for a National Park near you using the National Parks Conservation Association's website with park listings by region.
2. Recycle and pack it out.
Make sure to bring reusable bags with you to use throughout your trip. Better yet, keep two containers at your campsite: one for recyclables and another for trash. Depending on the campground, they might have trash and recycling services which you can empty your bins into. If you're in a more remote camp, you will be responsible for packing your own trash out, and these trash and recycling containers make that even easier.
3. Leave the bottled water behind.
Individual water bottles will quickly start to fill up your recycling bags and are already bad for the environment in general. BPA-free refillable water bottles and hydration packs eliminate the use of single-serving package container waste and are the way to go!
4. Follow the trail.
Straying from the trail on your hike can be tempting, especially when you're seeking a perfect camera angle or a glimpse of wildlife. But traveling off the beaten path can do more than get you lost; trekking off-trail can be harmful to native plants and can cause soil erosion. Be sure to resist the urge to remove plant life or brush from the trail you're visiting, too.
5. Keep the flame contained.
If you choose to build a fire, make sure to use only established circles or designated fire pits. Keep your fire to a manageable size and always have a fire extinguisher or water on hand to douse the flames when you're finished. While it may seem obvious, don't burn any plastics, food packaging or metals; those need to go home with you for proper disposal. Brush up on more fire safety tips with an old favorite — Smokey Bear! Check out the Smokey Bear's guide to building and extinguishing perfect campfires.
6. Light up your nights with eco-friendly options.
Solar powered or LED flashlights and lanterns are a great green camping choice since they require less power and last longer than non-LED lights. Did you know there are more solar powered products for camping other than just lights?
7. Pack reusable dishes for your cookouts and campfires.
You can pick these up at your local second-hand shop, too! If you're an avid camper, it's a good idea to have a set of camping dishes as well as a wash basin and biodegradable soap for cleaning up. Wash dishes at least 100 feet from streams, ponds, and other bodies of water and use as little water as possible.
8. Take a break from your beauty routine.
Personal care and beauty products can be toxic to the environment. Skip the makeup and perfume for a few days as you take in the sweet sights and smells of your surroundings. When showering, try to conserve water if you can by using a multi-purpose soap that's made from natural resources. One "beauty" product you shouldn't skip? Sunscreen (and maybe deodorant).
9. Learn something new.
Camping is the perfect opportunity to unwind and disconnect from the chaos in our lives. Get to know native plants and animals and the issues they face in their local environment. Take advantage of programs offered at your camp destination and do a little research on your own. There are a ton of apps that allow you to identify birds, discover new types of plants, or point you in the right direction for a new trail to hike.
Remember, opt for photos or mental snapshots and never take any souvenirs home. Make sure always to leave your campsite better than you found it and practice the art of "no trace camping". We only get one planet, so let's enjoy it and protect it as much as we can now. Don't forget! APG&E has electricity plans to help you stay cool indoors, and rates to help you relax and enjoy the outdoors. For more about eco friendly camping trips, check out the blog.
Happy camping!