We're finally in the time of the year where cold fronts are our friends, and everyone wants to get outside and enjoy the beautiful weather. Until it turns ugly. Then we'll be stuck inside trying to keep warm. Everyone's needs and heating systems are different, but you'll need to heat your home somehow. Here are the best electric heaters tested by independent editors at The Spruce for whatever type of home you have.
CHOOSE THE BEST ELECTRIC SPACE HEATER FOR ANY ROOM IN YOUR HOUSE
Follow along with APG&E to learn about the best electric heaters for your home that are currently out on the market. Learn from the experts which room heater is right for you! You can also find more information about Houston electricity companies if you are searching for the top supplier.
1. Best Overall: Duraflame DFI-5010-01 Infrared Quartz Fireplace Stove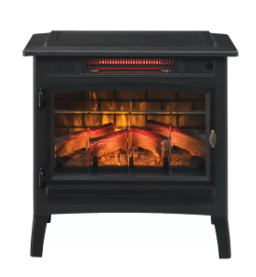 This Amazon bestseller operates at 5,200 BTUs and can warm a 1,000 square foot room. It has a 3D flame technology that looks pretty close to the real thing adding a little ambiance to the room. It also has five adjustable settings that can help you control the brightness and speed of your "flames". Fake logs seal the deal with a warm and cozy vibe. An overheat setting will turn this off so you won't need to worry about it being left on too long. It also has a digital thermostat so you can find the perfect temperature to snuggle up to.
2. Best for Small Spaces: Vornado VH10 Vortex Heater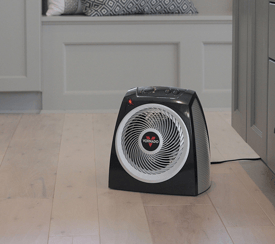 If you want a top-notch heater for a small space, experts say the Vornado VH10 Vortex Heater offers better, quieter performance than the similarly sized Lasko 754200. In a recent test, this forced-air heater raised the temperature of an 11- by 13-foot room more than 10 degrees in 20 minutes —better than any other small space heater tested.There aren't many extra features with the Vornado VH10. Users can toggle between high and low settings using a button on top of the unit, while a dial allows for thermostat adjustments. Reviewers like the simple controls and nearly all agree that the VH10 is extremely quiet, making it ideal for use anywhere silence might be important. The Vornado VH10 will automatically shut off it overheats or tips over, and it also has a cool-touch case.. A carrying handle and cord wrap are included. APG&E offers free nights and weekends on certain plans. Be sure to ask about our plans to see which one is best for you and your family.
3. Best for Big Rooms: Lifesmart LS-1000X-6W-IN Large Room Infrared Quartz Heater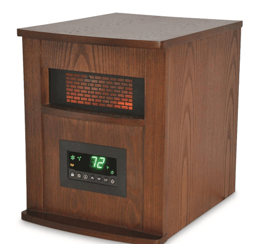 To make a large living room feel as cozy and warm as possible, you need an indoor heater that's ultra-efficient and capable of handling the task at hand. The LifeSmart LS 6 Element Large Room Infrared Quartz Heater is the perfect pick, thanks to its ability to heat up to 1400 cubic feet with 5100 BTU's. It measures 13" x 16.25" x 17.5" and can be moved from room to room thanks to the easy-glide casters. This LifeSmart heater boasts six superior quartz infrared elements, which is why it's able to produce such an abundance of (quiet and efficient) heat. Built with convenience in mind, it comes with a remote control so you can easily switch to one of three different heat settings. The digital display and raised buttons are also a breeze to use. A warm breeze.
4. Best Design: Dyson AM09 Fan Heater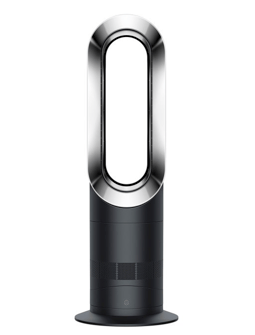 Dyson has long catered to design-lovers willing to pay a premium price, and the Dyson AM09 is no exception. Fortunately, experts say it's more than a pretty face: The AM09 can quickly, effectively heat a standard room. For the most part, owners agree, though some say they expected a more powerful unit.
If you want bells and whistles, the Dyson AM09 delivers. There are 10 airflow modes, and it doubles as a fan in warmer months. The unit oscillates and pivots. It also has "diffused" and "focused" modes depending on whether you want to disperse heat or warm a particular spot. Heating is automatic—just set temperature and the AM09 cycles on and off to maintain it. There's also a sleep timer and magnetic remote control. Owners say it's next to silent on all but the highest settings.
The Dyson AM09 automatically shuts off if it's tipped over, and the bladeless design is safe around little fingers and stays cool to the touch during operation.
5. Best Budget: Lasko 754200 Ceramic Heater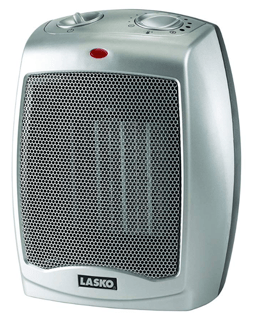 You don't have to shell out hundreds of dollars for a high-quality space heater. The Lasko 754200 Ceramic Heater is a highly-rated budget option with an adjustable thermostat and built-in safety features.
This space heater may be small at just 9 inches tall and 7 inches wide, but reviewers say that it's effective when it comes to heating up a room. The product has a 1,500-watt high setting and 900-watt low setting, as well as a fan-only option, and users note that it is relatively quiet as space heaters go. Since it is a budget option, this Lasko Ceramic Heater has manual controls only, so you'll have to get up to turn it off before bed. However, it does have automatic overheat protection to keep your home and family safe.
Overall, the Lasko 754200 Ceramic Heater is a compact, affordable space heater for smaller spaces. It may not be able to heat up a huge room, but it's certainly effective if you're looking to keep your bedroom warm during the winter.
6. Best Personal Heater: Lasko #100 MyHeat Personal Electric Ceramic Heater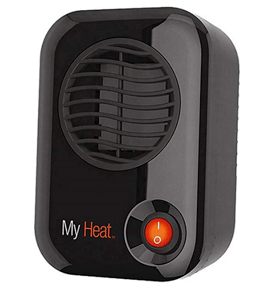 When the colder months arrive, you may find that your office gets uncomfortably chilly. Instead of wearing your winter coat inside, you should invest in a personal space heater like the Lasko #100 MyHeat Personal Ceramic Heater. The product is perfect for keeping your personal bubble warm without disturbing people around you.
This compact heater is perfect for use under a desk, in a bathroom, or in a small office. The unit is just 6 inches tall, and it gives off around 200 watts of energy — just enough to keep you warm. There's just one setting on this personal space heater, and it uses minimal power to save on energy costs and prevent the circuit breaker from being tripped.
7. Best Energy Saving: Honeywell EnergySmart Efficient Electric Radiator Indoor Heater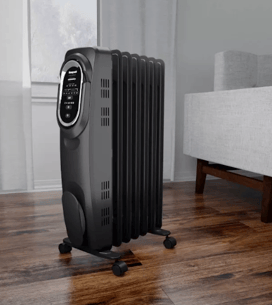 This radiator from Honeywell is designed to provide extra heat while conserving energy. Using its EnergySmart technology, it promises steady, quiet, and energy efficient heating. Digital controls let you adjust the heat to one of three settings, and there's an automatic timer you can set to go off between 1-12 hours, so it doesn't run beyond the time you need it. Another cool feature of this heater is that it comes equipped with an indicator letting you how much energy is being used at any time.
It measures 24.5 x 9.06 x 13.74 inches, and it looks much like a traditional radiator. It's mounted on wheels and comes with a built-in handle, so it's also easy to move from room to room. It comes with a 3-year warranty, and customers say it heats up quickly, warms rooms well and is nice and quiet too. Don't get stuck with a company you don't like. Check out the electricity plans in Houston offered at APG&E, the number one provider in the city.
8. Best Baseboard: Optimus Electric 30" Baseboard Convection Heater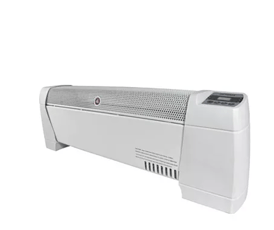 If you're looking for a discreet and powerful space heater that won't get in the way, a baseboard heater is probably the way to go. Many baseboard models require hardwiring, but not the Optimus. At 30 x 6 x 10 inches and weighing just six pounds, it's fully portable and even has a built-in handle so you can move it from room to room. This would be perfect for tucking up against the wall in a cold corner bedroom, a chilly basement, or a bathroom —anywhere where you want to maximize your space.
The Optimus Electric 30" Heater has two different heat settings (750 watts or 1500 watts), automatic thermostat control, and a digital display for simple temperature programming. In terms of safety measures, it has a tip-over safety switch that automatically turns it off if the unit falls over, plus an internal heat-limiting thermostat. Reviewers love that this unit is quiet and easy to move around the house.
9. Best Wall-Mounted: NewAir 1500-Watt Portable or Wall-Mounted Space Heater Electric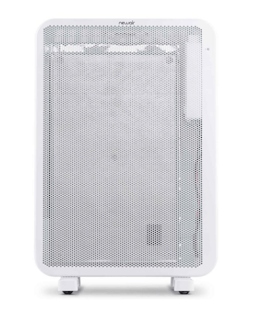 When you don't want your space heater taking up floor space, a wall-mounted unit is a great option. This one from NewAir is simple, sleek, and perfect for your home.
It heats up to 160 square feet, and you can set it to work at a low or high output and control the heat levels to get your room to the precise temperature you want it. The heater produces heat silently, so you won't be constantly reminded its there as it keeps you warm. It also looks great, so whether you mount it on your wall or decide to use it as a floor heater instead, it won't stick out like a sore thumb, even in the most stylish homes.
10. Best Ceramic Space Heater: Lasko 6462 Full Circle Ceramic Heater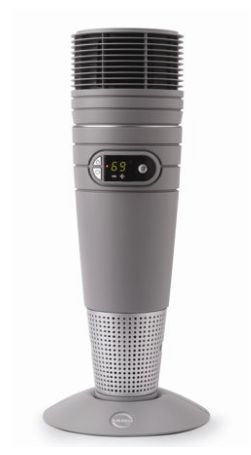 Ceramic space heaters are among the most common kind of portable electric heaters. These heaters draw air over a hot ceramic plate before using a fan to blow that air back out into the room. They are typically compact enough to carry from room to room and plug into the wall. Some oscillate to send heated air in different directions. Most are meant only for supplemental heat in smaller rooms, though there are some more powerful units for larger spaces. They can heat a room quickly, but the fans make them a bit noisy. The blowing air might also irritate allergy sufferers.
Reviewers say the Lasko 6462 Full Circle Ceramic Heater is a great choice for heating up a small living space or bedroom fast. The heater oscillates and has a remote control for easy operation. Its tall, sleek design will blend into most modern homes, and experts praise its cool-touch housing and automatic overheat protection. Owners say the 6462 is relatively quiet for a ceramic space heater, and experts agree, giving it high marks for lack of noise. Still, it's worth noting that ceramic heaters are still louder than most other kinds of electric heaters. They also shouldn't be used too close to curtains or other combustible materials.
CONTACT APG&E TODAY.
For all questions, comments, or concerns, be sure to contact one of the professionals at APG&E. We are readily available to speak with you and guide you. You can call us right now at 1.877.544.4857. For more related content, be sure to visit the blog. Learn about our residential electricity plans today and why you should choose APGE. You can also learn about the best dehumidifiers for your home and much more.